Multi-port 40 GbE Adapters
The Fuji multi-port 40 gigabit Ethernet adapters enable today's most powerful servers to deliver the highest network performance possible. By implementing a PCIe Gen3 x16 lane interface to the host CPU, the Fuji adapters are capable of an aggregate of up to 108 Gbps uni-directional, thereby eliminating the network I/O bottleneck.
Ideally suited for space and slot constrained network appliances and virtualized servers, the high throughput capability of the Fuji adapters exceed the bandwidth of all other x8 lane based dual-port 40GbE adapters by 46 to 100%.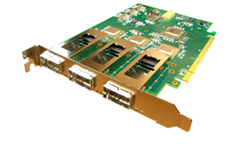 Download Product Comparison